Mom is talking to Baby Zap, looking in her eyes and talking with a lot of expression in her face and voice. Baby Zap enjoys this kind of conversation and responds with wide eyes, with flapping of arms and legs, and with sounds of her own. Dad thinks this is all a bit silly. He talks to Baby Zap more like an adult, sitting beside her instead of in front. Baby Zap doesn't respond the same way as before. Recognizing this, Dad moves down to her level, in front, and begins to talk to her with the kind of animated expressions that babies enjoy.
Babies are learning language long before they begin to speak. So talking, singing and reading to your child are important to do from the day he's born. Being with other children is helpful, too. As your baby hears sounds, his brain maps out a structure of the language, which is different for each language being learned.
Your baby likes it when you speak in a happy, lilting voice and look right at her with a smile (which parents seem to do automatically - this way of talking has been named "parentese"). You will likely get some kind of response, perhaps a smile or a coo. Your face should be very close - about 25 cm (10 to 12 inches). Parentese seems to be just what your baby's brain needs to learn language. This learning is helped along by the enjoyment she gets from you talking this way to her. That's why playing a tape or the radio won't do the job.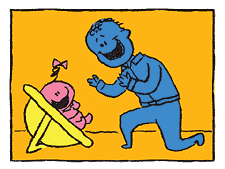 Babies communicate with their face, eyes, arms and legs, voice... And they pay close attention to you, or they turn away or fuss to tell you they want something else.
Most children can say simple words around their first birthday, and small sentences by age two, although some children begin talking later. If your child isn't talking much but seems to understand most of what is being said to him, and often communicates with gestures, everything is probably fine, and he'll catch up when he starts talking more. But always check with a professional if you are in doubt.
Babies are most ready to learn when they are calm and alert, in a quiet environment. This is a good time to spend with them, and to play.
There are differences in how men and women care for children that are based on how they were raised, their culture, and society's expectations for men and women.
Food for Thought:
What kind of books do I read to an infant? What songs do I sing?
How can I help my baby take an active part in reading?
When should my baby start talking? What if he is late?
How do I know if I am getting through? How will my baby let me know?
How do you and your partner differ in how you care for your child? Does it cause any problems?