Bell Canada Partners with Invest in Kids to Create Parent Help Line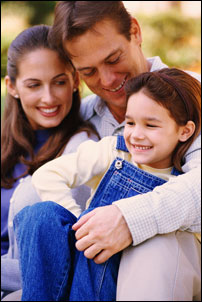 When Invest in Kids proposed the idea of providing parents with a place to turn to for help with their parenting questions and concerns, Bell Canada rose to the occasion with significant support. Bell's early commitment led to a partnership with Invest in Kids and Kids Help Phone to create Parent Help Line.
Parent Help Line is Canada's first national, bilingual telephone and Internet service offering confidential support, information and referrals to parents of children aged 0 to 19 years.
With Bell's support, the child development and parenting experts at Invest in Kids continue to build a library of messages for parents that can be accessed by phone or website. The growing library now houses 300 messages.
The messages are developed in consultation with an even larger network of experts: psychologists, psychiatrists, school guidance counsellors, speech language pathologists, nutritionists, early childhood educators and infant specialists.
Invest in Kids also works with professional performers to produce the recorded messages.
Since its launch in May 2000, Parent Help Line has received more than 40,000 calls, averaging more than 1,500 calls monthly. Online, more than 12,000 messages are accessed on the English website monthly, and nearly 20,000 on the French site.
Bell Canada is a key supporter of family and child development issues and has supported the initiatives of Invest in Kids since 1995 including Get Set For Life.
"Given our involvement with both Invest in Kids and Kids Help Phone, we felt that investing in Parent Help Line was a natural progression in our support of family and child development," says Louise Bellingham, Senior Director, Sponsorships and Donations, Bell Canada.
In just over two years, there has been a steady increase in access to Parent Help Line services. Canadian parents are clearly reaping the benefits of the expert advice offered by Invest in Kids through its support by Bell Canada.
Together, Invest in Kids and Bell Canada are reaching out to Canadian parents and supporting families nationwide.

Parent Help Line is Canada's first national, bilingual telephone and Internet service Parent Help Line can be reached at 1.888.603.9100 and at www.parentsinfo.sympatico.ca.